A domestic company (marked as BIOTECH) in China discovered a candidate small molecule (upper left), which demonstrated good efficacy in one of the tumor type (marked as Type A) in cell-derived xenografts (CDXs) in pre-clinical stage (upper right). To extend potential indications in phase I trial, three more indications (marked as Type B, Type C, and Type D) were selected via literature searching and/or in vitro validation (bottom left), and the phase I trial was launched (bottom right). However, no conclusive results were generated in the first milestone of the trial, which drove BIOTECH to find more supporting data in pre-clinical stage in order to be more confident to move the project forward.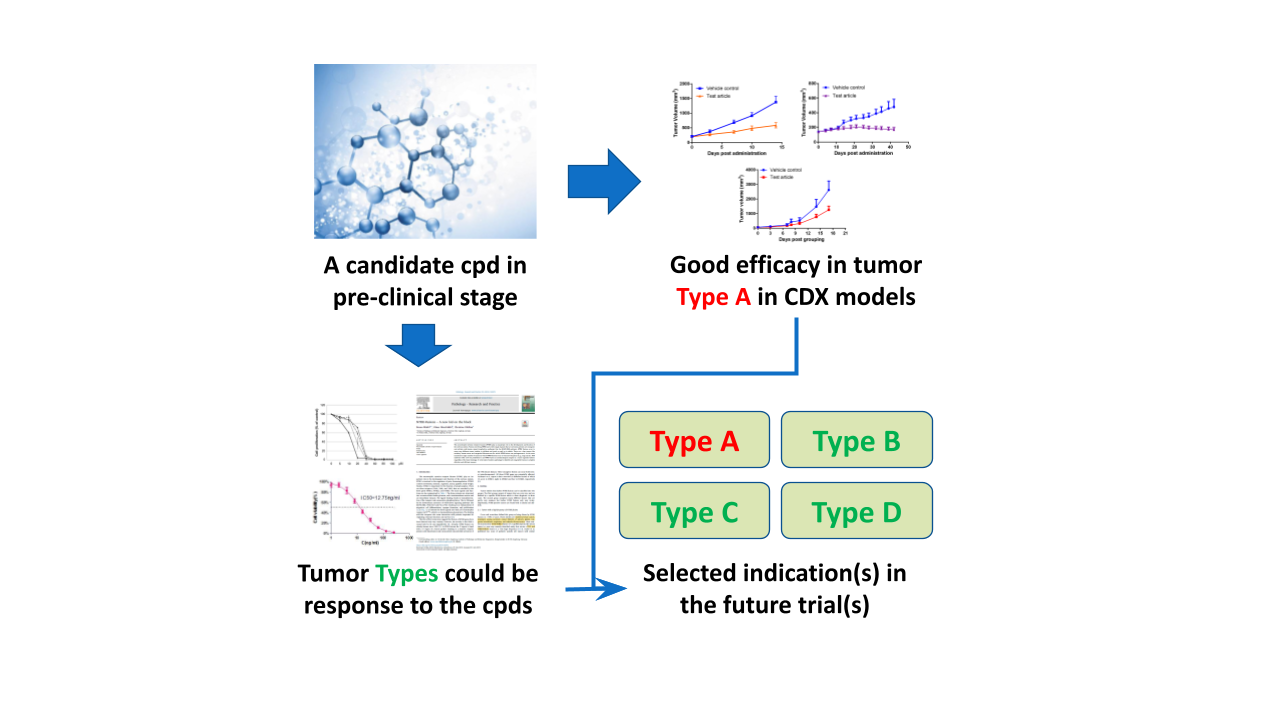 LIDE proposed a solution that using fresh patient tumor samples from either of the four indications to do MiniPDX mouse trial, with 10 cases for each, as well as K cell DNA/RNA library for each case. WES and RNAseq can be done for selected cases in future.

 
The first milestone was defined as completion of 10 cases enrollment in either of the four indications. In Type A, none of the patients were responded to the treatment (T/C%<40%), whereas there were several responders and non-responders (T/C%>80%) in both Type B and D indications. If this is a real clinical trial, 31 patients were enrolled with only 5 of them had response, whereas the objective response rate was only 16%, which indicated a failed trial.

 
However, modification can be done freely in a pre-clinical trial. We abandoned Type A and had done another round of enrollment for Type B to increase the sample size. At the end of the milestone 2, we may find significant two populations, 7 responders and 6 non-responders when rearranging the data into a waterfall figure. In this case, if we only recruit Type B patients, we may achieve 35% ORR, which could be a successful trial.

 
When we go into the 3rd milestone, we determined specific gene mutation in E1 or E2 sub-type unit were occurred only in 7 responders, rather than the 6 non-responders. The sub-type gene E1 or E2 are the downstream of the drug's target. In another word, if the E1/E2 mutant patients in the indication of Type B can be picked out, we're likely to achieve 100% of ORR in theory.