LIDE's Functional Diagnosis platform helps drug R&D companies overcome two primary challenges.
Evaluating the best indications for promising compounds
Identifying companion diagnosis for recruitment strategies
Indication Screening with MiniPDX®:
While LIDE offers standard in-vitro and in-vivo screening studies, we also recommend adding our MiniPDX® study as part of the validation process before more costly investments in complex in-vivo studies. 
| | | | |
| --- | --- | --- | --- |
|   | PDX | MiniPDX | 3D cells or Organoids |
| Study Type | In-vivo | In-vivo | In-vitro |
| Study Length | 4-6 months | 7 days | 2-8 weeks |
| Cost | High | Low | Low |
| Predictive Power | 89% | 82%* | TBD |
| Primary Benefit | Gold standard validation for IND application | Predictive power of PDX but shorter turnaround time | Better representation of natural tumor environments vs 2D cell cultures |
Table: Comparison of PDX, Organoids and MiniPDX® technologies
*by calculation here.
LIDE is participating in a real-world-evidence project across hospitals all over China to leverage MiniPDX in delivering personalized treatments. This is a critical component of LIDE's translational medicine platform, providing our research partners unique models, many with special genetic alterations or drug resistance that is critical for validating new drug candidates.
By leveraging MiniPDX® technology and LIDE's growing tissue library, drug companies can quickly identify or further evaluate potential indications, for a fraction of the cost and time required of PDX studies.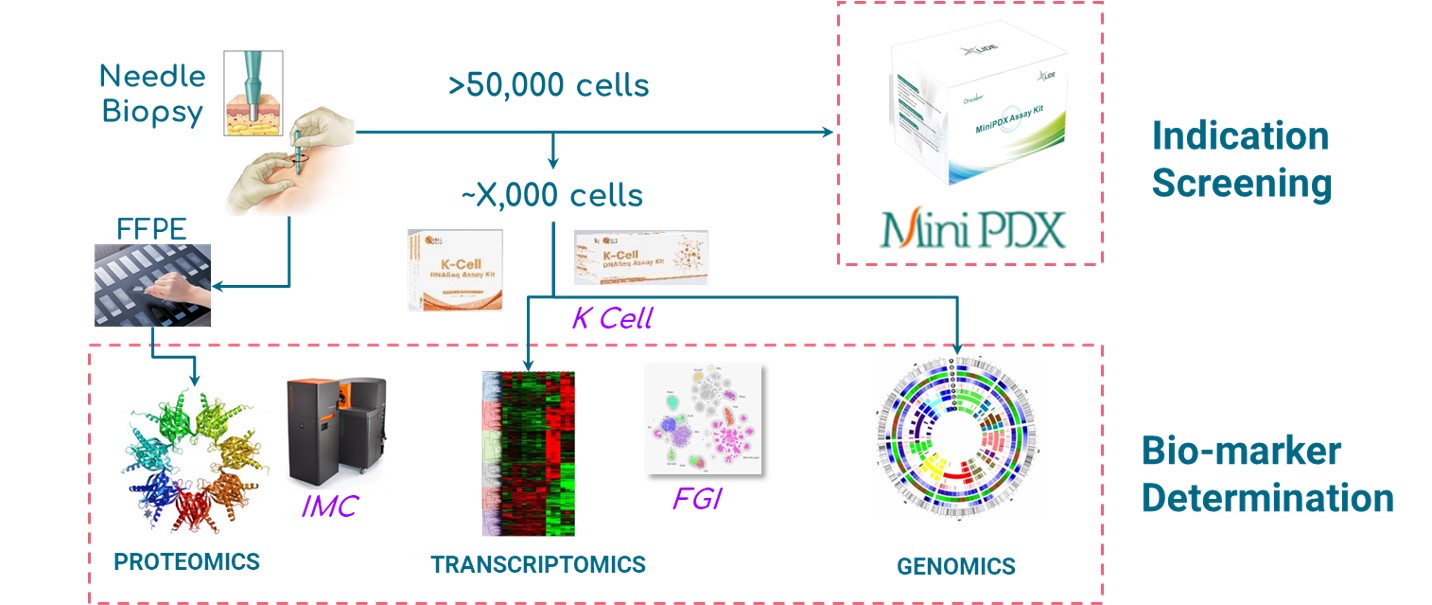 Fig. LIDE Functional Diagnosis platform offering indication screening and bio-marker determination.
 
Read a Functional Diagnosis case study.
Download our MiniPDX fact sheet